Holiday houses near Bamburgh, Northumberland
Self-catering cottages by the sea in Northumberland and visit Bamburgh Castle.
Self-catering seaside holiday houses near Bamburgh in Northumbria
When it comes to picture postcards or illustrated book about Northumberland, a view of the former home to the kings of ancient Northumbria, Bamburgh Castle, tends to be the main one that is used. It is possibly one of the most iconic, ancient buildings in the North East of England, most certainly in Northumberland. And to prove its mighty worth, it has received a North East Large Visitor Attraction Award and was a finalist in television's Britain's Favourite View competition held on ITV1. However, prior to all the modern day awards, the castle had the rather unusual distinction of becoming the first castle in England to be successfully besieged by artillery.
Whether on a family self-catering holiday by the sea, a romantic weekend break, or a large group of friends getting together or a last-minute break away, Bamburgh Castle is not so much worthy of a visit, as more of a must-visit. Or maybe even a must-visit twice!
Visiting Bamburgh Castle
This wonderful coastal castle, ancestral home to the Armstrong family, and one of the largest inhabited castles in the country, was wholly restored in during the latter part of Victorian times by the first Lord Armstrong. In its fantastic 14 public rooms - the impressive grand kings hall, the museum room, the armoury, cross hall, and the Victorian kitchen – the visitor will see an incredible collection of well over 2,000 objet d'art, including paintings, furniture, collections of fine china and porcelain, artwork, arms and armour.
Travelling to Bamburgh by train:
Closest train station to Bamburgh is Chathill - a limited service from Newcastle, but the main line at Alnmouth.
North East England by Air:
Closest Airport is Newcastle International
Travelling to Banburgh by bus:
Closest bus station is in Alnwick, but direct routes to Bamburgh run from Newcastle and Berwick.
Driving to Bamburgh:
Driving: within easy reach of Alnwick, inland the Cheviot Hills and driving north Berwick upon Tweed (Scottish Borders).
Seaside cottages close to Bamburgh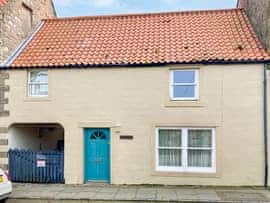 Large holiday letting in Northumberland near Bamburgh with 2 bedrooms, sleeps 6, No pets, Pub within 1 mile.
View Next Door Cottage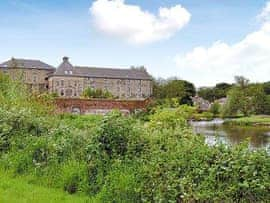 Luxury holiday house in Northumberland near Bamburgh with 3 bedrooms, sleeps 6, No pets.
View Bayview
There have been settlements on the site of the castle since prehistoric times. The archaeological digs that have taken place on the site over the years have certainly unearthed some quite amazing finds, including the famous Bamburgh Sword and the gold plaque known as the Bamburgh Beast. In fact, during the summer months, visitors can not only see archaeologists at work, but families are positively encouraged to join in this ageless pastime, and there is even a children's dig pit, so the younger members aren't left out.
The magnitude of the castle regularly sees film and television crews setting up their stalls, and filming there has included the epics such as Becket, with Peter O'Toole, 'Ivanhoe' with Elizabeth Taylor and 'El Cid with Charlton Heston and Sophia Loren to the more modern Roman Polanski's 'Macbeth', and Ken Russell's 'The Devils'. Television's 'How the Celts Saved Britain', 'Coast', 'Meet the Ancestors' and 'Time Team' programmes have been filmed there.
It is also a popular venue for weddings and family and business celebrations, with large group accommodation in holiday houses and there are always special and seasonal events held regularly throughout the year. Beach and castle - what the English do best and the perfect ingredients for a holiday in UK!
Book beach houses near Bamburgh in Northumberland
Call the coastguard! Most holiday houses welcome guests of all ages, children and dogs. Wi-fi is usually included, log burners / fire are almost standard, bedlinen and home comforts are detailed it the property descriptions - our editors 'top' seaside holiday houses close to Bamburgh in Northumberland: