Holiday houses in The Scottish Borders, Berwick Upon Tweed
Self-catering cottages in Northumberland close to the Scottish border. Berwick is England's most northern town, pupular for fishing on the River Tweed.
Accommodation for large groups in holiday houses in Berwick in Northumberland
Just 2.5 miles (4 km) south of the Scottish border, Berwick-upon-Tweed is the northernmost town in England, often referred to both nationally and internationally as the "definitive border town". It's a very historic, yet traditional, market town – although it is walled - and has been a very busy trading centre and international port from as far back as the 12th and 13th centuries. Between 1120 and 1482 it changed hands between Scotland and England no fewer than 14 times. The town is noted for its architecturally important defence ramparts and barrack buildings, now maintained by English Heritage.
The town is ideally placed for the self-catering holiday maker who wants to benefit from a twin-country holiday – you can enjoy typical Northumbrian hospitality one day and Scottish Borders hospitality the next!
There is a superb selection of self-catering accommodation in and around Berwick, from slightly more formal apartments and houses to holiday cottages and large lodges outside the town. There are also several static holiday home and caravan sites in the region surrounding the town. If you are arranging accommodation for a big group of people, you will be amazed at the cost per person per night - the larger groups attract great prices.
During the summer months, the selection of available cottages is a lot different to the selection available during the Autumn and Winter months but you won't be penalised for booking at the last minute? Booking last minute requires an element of flexibility but we are confident that you will find accommodation that fits your specific requirements and often with a discount. That cosy, magical getaway is easier to find than you might think, even if it is last minute - just take a look.
Whether you are looking to pack your case and leave right now or in a week's time, we have a huge selection of cottages waiting for you.
Berwick is a very attractive town. With a setting on the mouth of the river Tweed and its red-roofed houses and pinkish grey stylish and striking Georgian buildings, it is easy to see why painter LS Lowry was such a frequent visitor to the town, with the Lowry Trail as a testament for visitors interested in art and the artist.
Berwick is only 3 miles south of the Scottish Border in North Northumberland.
Regular trains stop at Berwick and services from Edinburgh and Newcastle are hourly taking just 45 minutes.
Trains from London Kings Cross take approx. 3hrs 30 minutes.
Travelling to Berwick by bus:
North East from Bamburgh, Seahouses, Alnwick, Newcastle
Berwick Town from Holy Island, Scottish Borders, Edinburgh
Travelling to Berwick by plane:
Newcastle and Edinburgh Airports
Driving to Berwick:
Berwick is close to the A1 and approx 65 miles (1 hour) between Newcastle and Edinburgh.
Vacation rentals close to Berwick Upon Tweed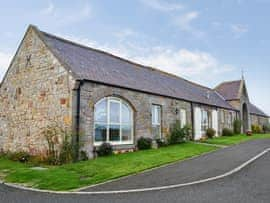 Self-catering accommodation in Northumberland near Berwick-upon-Tweed with 3 bedrooms, sleeps 6, Pet friendly, Baby and Toddler Friendly, Cot Available.
View East Allerdean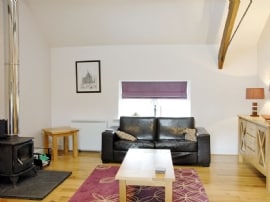 Group accommodation in Northumberland near Berwick-upon-Tweed with 3 bedrooms, sleeps 6, Pet friendly, Cot Available.
View Murton Cottage
There is much to see and do in and around Berwick Upon Tweed. Aside from the walks around the Elizabethan walls and the town, there's an army museum and thriving theatre and arts centre. There are plenty of shops, many of which are independent family-owned and managed concerns, and a twice-weekly market held on Wednesdays and Saturdays and a farmer's market on the last Sunday of every month. So there's no excuse for not being able to source fresh local produce for cooking that special meal.
And for the more active, the 15-mile Berwickshire Coast Path starts in the town and winds along some magnificent scenery through Burnmouth and Eyemouth, to end at St Abbs Head.
Those wanting a rest off from making meals (self-catering doesn't mean you have to cook), will find some great restaurants, cafes, coffee shops, takeaways and fish and chip shops, and many of the towns traditional inns and pubs serving traditional, home-cooked style food with the flavours of both north and south of the border.
There are three especially fine bridges over the River Tweed at Berwick, in particular, the Royal Border Railway Bridge, designed by Robert Stephenson. With its 28 arches, it is said by many to be the finest of its kind in the world today, and currently carried the East Coast Main Line. In the town, a couple of sights of note are the Berwick Parish Church which was rather unusual for being built during the 'rule' of Oliver Cromwell, and the Guildhall, dating back to 1750 which used to house the town's prison on its top floor.
If you want to head to the sea for a bite and a pint, you'll soon discover that you are spoilt for choice. Whether it's Blyth in the south or Berwick-upon-Tweed in the north, you'll discover charming pubs and inns along the way serving good beer – with many local brews still surviving to this day – as well as wholesome, local food. And some may even serve it fresh from that morning's catch.
Seahouses and Amble are especially famous for fantastic local fish and chips, and of course no stay would be complete without trying the famous Craster Kippers, so beloved by Her Majesty the Queen.
And with Northumberland being such a great walking county, you'll always find a good inn or pub along virtually every walking route, sometimes hidden way in the village or hamlet, but nevertheless ready and willing to serve you good food and drink to perk you up for continuing on your walk. In fact, you'll even discover pubs near Hadrian's Wall providing that vital stop-over after a few hours wall-walking!