Holiday houses to hire for Stag and Hen parties
Rent self-catering accommodation for parties. Get the girls - or the boy's together under one roof!
Accommodation for a civilised Stag night or Hen party?
Stag and Hen nights were traditionally a pre marriage night on the town with a few too many drinks. However they became more and more elaborate and competition to have the most memorable became fierce. A whole Industry sprung up to cater for the ever growing needs of Stags and Hens! A night out became a night away, then a weekend accompanied by daredevil activities or pampering luxury. The local pubs and clubs became out dated and stays at City Hotels and then trips to the Continent and beyond! More recently people have become a little more circumspect and while still wanting a memorable time they have reigned the spending in a little and relaxation or sporting pursuits are often enjoyed.
Hire a house for a Hen night or Stag night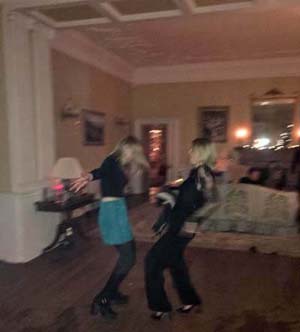 Budgeting for a Hen night or Stag weekend is crucial, you need the groups money to get great value for money and maximum enjoyment! Why not look for self-catering accommodation that will cater for all your party, rent a private house and everyone can stay together under one roof (10, 12, 14+ people is typical but some house accommodate 20 - 30 guests), you can make their own meals (bring them pre-prepared or hire a cook), bring your own drinks and entertainment (cheaper than going out to a venue). Many Houses will also have games rooms and gardens to relax and have fun in! BBQ's in the summer, chilling on the patio. Adrenaline seekers will be able to find their thrills locally, whether Quad Biking, Rock Climbing, Go Karting or paint-ball! Any group activity will be fun, golf weekends and yoga retreats are really popular and for the Hens a relaxing Spa beauty session can hired in or can be found locally (why not enjoy a little pampering!) A unique sophisticated luxury hen weekend for your best friends - what could be more fun? Holiday houses with hot tubs or swimming pools might tick a lot of boxes, and can be rented for weekend rentals or short breaks. Adding a theme to the party - can be a massive ice breaker for those who have not met each other, either fancy dress, themed or dress to impress dinners are sure to create a really special atmosphere that will be remembered.
If you do overdo it a breath of fresh air can be taken with a long walk in the country! Not surprisingly more and more Hen and Stag Parties are looking for the ideal venue for a memorable time! We have a wide range of large rental properties on our site, across all areas of the UK. From The South Coast to Northumberland, from Norfolk to Hereford and all points East, South, West and North. Houses near the coast, Properties close to Mountains or Homes by Lakes – whatever your needs and dates there should be something suitable. A quick word of warning though – not every property will allow Stag and Hen parties so it is best to double check first. Check our social media pages for recommendations of music and entertainment providers, we are always happy to help research party activities - just get in touch.